Coin Boxes + coin bags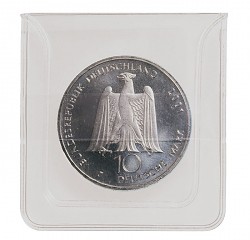 > go directly to the list of Coin boxes and coin bags
Edelmetalle direkt offers you the compatible coin boxes and coin bags for all common standard coins.
Coin boxes consist of transparent, stable, valuable polystyrene with a scratch-resistant surface. This guarantees a perfect protection together with a cristal clear view on the coin packed in there.
Coin bags are made of a soft and flexible PVC. This protects your coin against mechanical damage and allows the view through the packaging.
We stock coin bags and coin boxes for all common standard coins. On request, we are pleased to inform you about which size is compatible to which coin.
---