Gold Coins 1/4 - 0.99 Ounce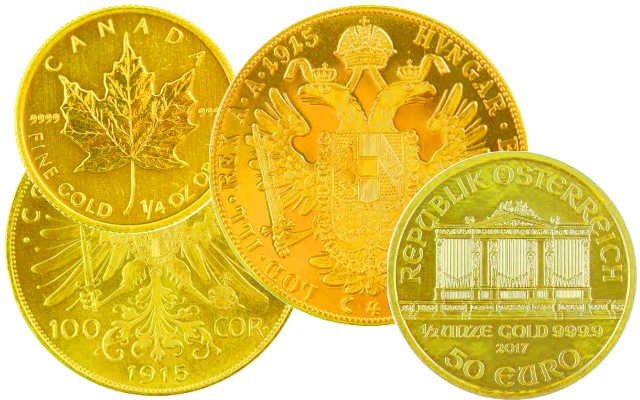 > directly visit the list of gold coins 1/4 - 0.99 ounce
Apart from the
standard coins in the range of 1 ounce
, Edelmetalle direkt offers a large variety of common gold coins with other troy weights.
Smaller weight units below the standard size of 1 ounce are recommended as an admixture for the case that gold and silver again become a means of exchange that is generally accepted, at least temporary, because of the collapse of the paper currencies. In this case, both gold and silver would overall enormously gain purchase power, so that the standard size of 1 ounce could already be too recoverable for small, everyday life things. Therefore,we also recommend, apart from silver coins and
gold coins in the range of 1 ounce
, the purchase of 'small gold'.
Here you may find gold coins with a troy weight of at least 1/4 oz of gold up to a troy weight of almost 1 ounce of gold. For instance, you may find
1/2 oz Krugerrand
or
1/4 oz Vienna Philharmonic
, but also older mintings, such as
100 krone in gold
with 30,48g of fine gold or
4 ducat
with 13,76g fine gold from Austria.
Should your desired coin be not listed or should it not be available in the desired quantity, please
do not hesitate to give us a call
. Usually, we are able to have the standardly traded coins in Germany ready for you within 3 - 5 working days.
---