Silver Coins 1 Ounce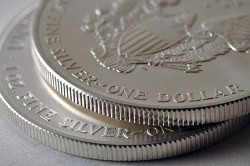 © swoodie / Fotolia
> go directly to the list of silver coins 1 ounce
Edelmetalle direkt offers you a wide range of the most important investment silver coins worldwide for purchase.
You receive from us both the low-priced classics, such as the Canadian Maple Leaf, the Austrian Vienna Philharmonic, the American Eagle, and the Mexico Libertad. We also offer well-known standard coins from Australia such as the Koala, the Kookaburra or the Lunar-II-series.
The range is completed with coins that already have a certain
collector's aspect
such as the Canadian Wildlife-series, the Canadian 'Birds of Prey'-series, the Canadian 'Predators`-series, older age groups of the Australian coins and the China Pandas. You will find the current age groups in the table below, the older ones in the category
collecting + giving
.
Are you searching for a specific kind that is currently not listed?
Call us or send us an e-mail
then. We stock many articles that are not listed in the shop. Otherwise, we will obtain the desired sort as quickly as possible on the market for you.
The standard size of silver coins are the 1 oz pieces. 'Oz' stands for 'ounce', the traditional weight unit for precious metals in the Anglo-Saxon language area. 1 oz corresponds to 31,103 g of fine silver. With regard to an aggravation of the financial and economic crisis, which is possible at every time, 1 oz coins form the basis of every precious metal investment.
If necessary, they are also suited as an alternative currency for the everyday life, gold ounces rather for larger purchases. Because of the defined sizes, silver ounces can be checked easily for authenticity also by laymen.
Their wide spread and their level of awareness increases their acceptance as an alternative currency.
Since 01. january 2014, we preferably trade with coins and coin bars to which we can apply the
rules of the differential taxation
according to §25a of the German Value Added Tax Act (UStG). Otherwise, the full value added tax rate of currently 19% applies and is declared accordingly.
---